Heading into 2022, the headwear experts here at Outdoor Cap are continuing to expand and improve our headwear selection. Being one of the largest companies building headwear today, we are committed to give our customers a wide range of high quality caps to select from. We give customers the best hat possible to match and fit their logo so they can wear their brand proudly while being comfortable and stylish. The hat experts at Outdoor Cap consider each and every hat made here a piece of art. Our research and development team works hard to make sure each piece of art is up to date with today and tomorrow's trends. Headwear preferences can change drastically through time, but the need for a high quality, well-fitting cap remains year in and year out.
As we begin the new year, we have twelve new stock styles our customers can chose from. The new OC771PF and the new OC504 are great styles to wear while being active as they are equipped with a wicking sweatband and are both made with a resilient polyester fabric. We have also added two new camo patterned styles with an American flag theme. Three of the twelve new styles are knits that are ideal to wear during the cold winter months. These styles that can keep your head and ears warm on a chilly day are the OC806, OC807, and the OC808. We also have added the OC902, which is an unstructured hat with a heavy washed patch. It allows you to have the relaxed cap feel with a turn-key embroidered patch look from a stock item. Our selection for lady caps has also grown by adding the OC770L. This cap based off of the OC770 is a great low profiled trucker cap for women. With structured mesh back caps now a mainstay in the headwear business, we have added some great styles that include the HPD-615M, the OC571, and the OC771P to our collection.
HPD-615M Premium Rugged Trucker Cap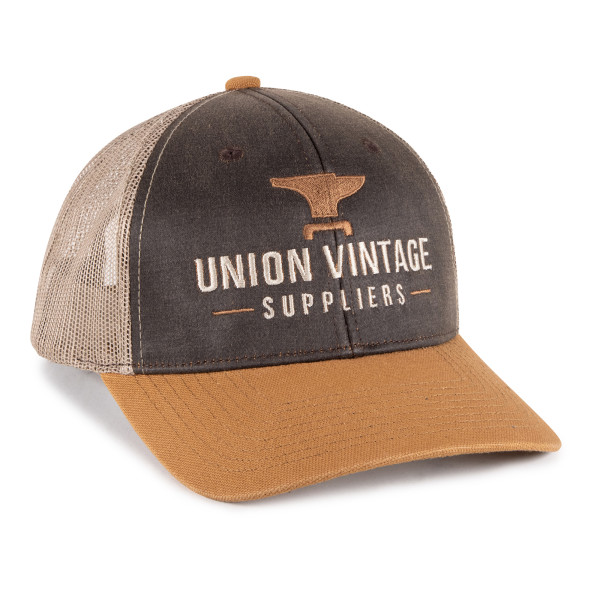 HPD-615M is a traditional six-panel weathered cotton meshback cap with a rugged low-profile modern trucker look that favors workwear and outdoor clients. Available in three colors for 2022 including Brown, Navy, and Olive, this cap has hard pigment dyed front panels with a wonderful hand-feel while also adding a rugged look to the cap. All three colors have a khaki and duk color block pattern to complement the primary front panels. They also all come with a complementary duk button to top off the cap.
Key attributes:
Rugged weathered cotton front panels
Meshback with hook/loop tape closure
Available in 3 colors
Great for:
Embroidery with monochromatic designs or complementary colors
Leather patches - genuine or faux
Customers that want that Carhartt look or something similar
Expert Tip: Duk fabric, aka 'duck' or 'duck canvas' is simply a plain woven cotton fabric that more tightly woven than canvas. The term as we use it here is also meant to denote the rusty yellow color common to this fabric and often assigned this name.
HPD-615M Inventory available beginning June 2022.
OC571 Premium 5-Panel Trucker Cap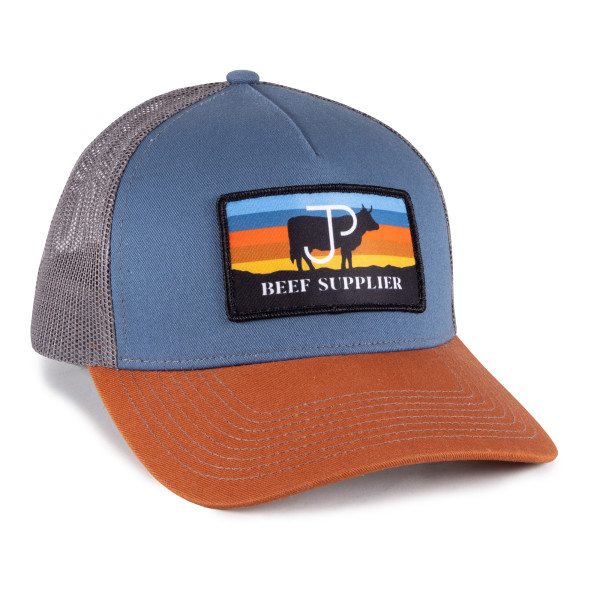 The OC571 is our new 5-panel version of the coveted OC771 Ultimate Trucker. Everything you and your customers love about the OC771 is here including a great comfort sweatband, clean lines, branded snapback closure, and a nice selection of 12 modern and traditional color options including the one picture in slate, charcoal, and rust.
For customers looking for a really clean, modern look but in keeping with the trucker aesthetic, recommend the OC571 with a single front panel and free from eyelets. This combination makes the decoration stand out from the cap.
We recommend using this hat with large patches and embroidered art that require the space and clean lines the OC571 offers.
Key attributes:
Same OC771 structured trucker shape customers have come to love

5-panel clean design

Contrasting construction stitching on visor
Great for:
Breweries, agri-business, or any brand with a big bold logo to show off

Looks amazing with complementary colored sublimated patches in large shapes
Expert Tip: The trend of corner patches can look good on 5-panel caps but we recommend considering a 6-panel for these types of designs. Because 5-panel caps have so much space on the front panel, a cornered patch can look lost or unfinished. Make sure you go big enough with your patch to fill the space whether you center or corner it in the frame of the panel.
OC571 Inventory available beginning March 2022 with multiple colors in stock now.. remaining colors arriving in September 2022.
OC771P Premium Modern Trucker
The OC771P is the Premium Trucker you know and love with stylish, patterned visors. With this cap having the solid colors of the chino twill front panels and mesh back panels, it is the perfect combination for the patterned visors.
This trucker has 6 great colorway options that your trend-forward customers will love. From colorful designs, to buffalo plaid, your customers will have a great selection to chose from to have our premium modern trucker.
Just like the OC771, this cap has a pro round crown, slight pre-curved visor, and plastic snap closure. And yes, the comfort wrapped sweatband you love from the OC771 is back again in this style!
Key attributes:
Slight pre-curved sublimated stylish, patterned visor

Comfort Sweatband

Available in 6 colors
Great for:
National Park, State/Local Pride, and Sustainable type logos on leather or scout patches

Any kind of Vintage/Heritage logos will look great on the OC771P
Expert Tip: For caps like this with big bold designs that are a key part of the hat, use complementary artwork that doesn't try to overpower the base design and pattern. Using custom leather patch shapes or tying in the pattern to the background of a sublimated patch make the cap feel personalized to the customer.
OC771P Inventory available beginning October 2022.
OC771PF Premium Performance Trucker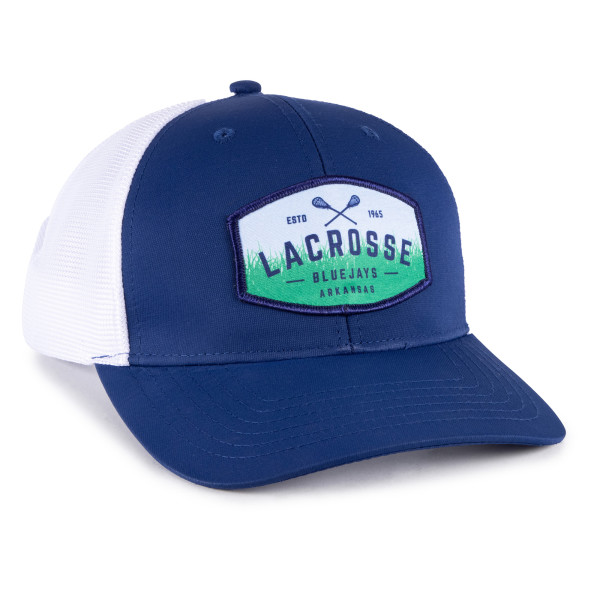 The OC771PF is the premium trucker you know and love, now in performance fabric. This cap has some great features, including moisture wicking polyester front panels. The back panels on this premium trucker are constructed from a high tech mesh that will feel comfortable while running, biking, hiking or any other performance activity.
The cap also includes a pro round crown, slight pre-curved visor, and soft snap closure that feels great with the cap worn normally, or backwards. And yes, the comfort wrapped sweatband you love from the OC771 is back again in this style!
With all these great features to this cap, we wanted to make this structured cap perfect for all your outdoor activities.
Key attributes:
Moisture Wicking Polyester Front Panels

Q3® Wicking Sweatband

Soft Snap Closure
Great for:
Active customers

Golf

Finance gifts
Expert Tip: With the moisture wicking polyester front panels, this performance trucker will be more enjoyable to wear outside during the hot days and just as stylish as all of our other truckers.
OC771PF Is NOW AVAILABLE in all colors.
OC770L Low Pro Ladies Trucker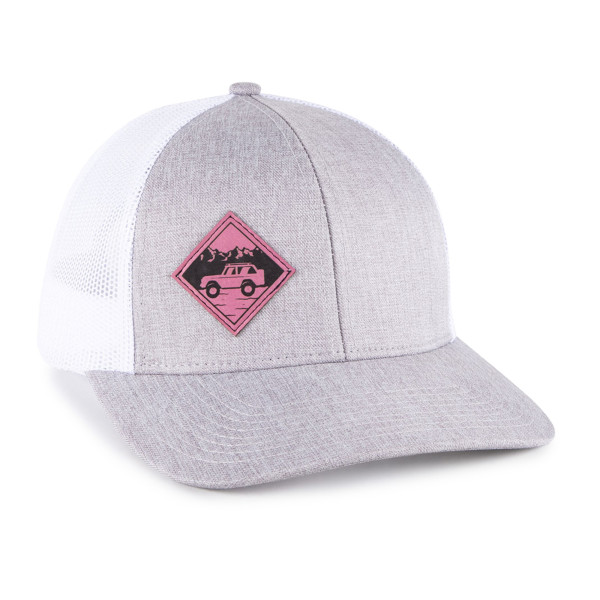 The OC770L is your new favorite lady trucker for all of your preferred activities. The OC770L is the premium trucker you know and love, now in 4 trendy heathered color options. The chino twill front panels in heathered colors are a perfect combination with the solid white mesh backs in this structured shape.
The design features a pro round crown with a slight pre-curved visor. This low pro ladies trucker can be adjusted with it's plastic snap closure, and includes a woven loop label. Free from eyelets, it gives the cap a cleaner look and makes the decoration on the cap stand out.
Key attributes:
Heathered Colored Chino Twill Front Panels

Solid White Mesh back panels

Plastic Snap Closure
Great for:
90's Vibe logos on small patches
Expert Tip: The gentle, heathered color options for the OC770L are designed for those who want a more colorful trucker. Heathered fabrics are made with a mixture of fibers to create a speckled look and make a illusion of a softer hue overall.
OC771L NOW AVAILABLE in select colors.
OC902 Heavy Washed Patch Cap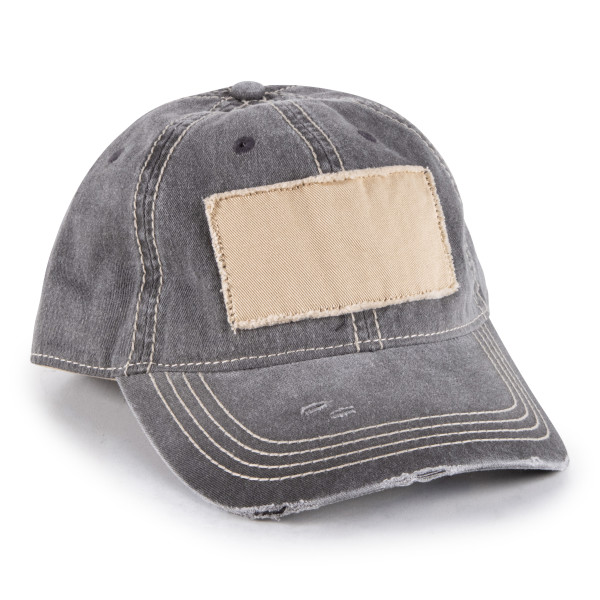 If you or your customers are looking for a high quality hat that has a "lived-in" look to it, the OC902 is a great option. The OC902 is a low profiled, unstructured six-panel cap that is a great fit for the ladies.
This hat is crafted from pigment dyed cotton twill with an enzyme washed fabric. Due to the washing, this means that no two hats will look the exact same and each hat will look unique.
This heavy washed cap features a large frayed front patch for decorating. This cap also includes heavy construction stitch and features a plastic snapback closure. The OC902 comes in 5 trendy colors to chose from.
Key attributes:
Enzyme Washed Fabric
Frayed Front Patch for Decorating
Heavy Construction Stitch
Great for:
Large embroidery projects

Breweries

Wineries

Booster clubs
Expert Tip: OC902, the cap with the built in billboard. The large frayed fabric patch is perfect for making embroidered logos look like patches.
OC902 NOW AVAILABLE in most colors.
OC504 Half Moon Mesh Stay Hat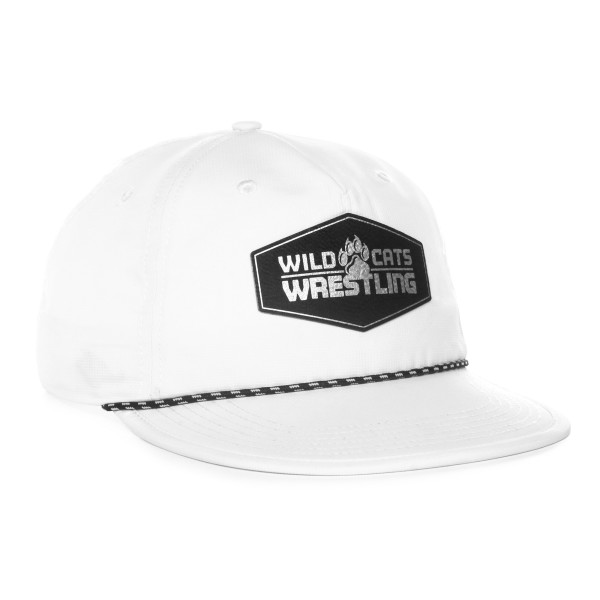 Take your headwear game on the road with the OC504. The OC504 is our packable unstructured 5-panel cap. This cap has has polyester construction with a half moon mesh stay. With this feature, no matter how much you pack it up, when you unpack it, the shape will remain. With the packable flat visor, this hat is able to take up as little room as possible when needed. This hat also features a pro min round crown with a double row soft snap closure to dial in the perfect fit. As you can see, this hat also features a cord to add a little more style to the comfortable, packable hat.
This is a great hat for you to add a logo of your choice through our embroidered process for a promotion that's certain to keep your brand firmly in the spotlight.
Key attributes:
Double Soft Snap Closure

Half Moon Mesh Stay

Packable Flat Visor With Cord

Q3® Wicking Sweatband
Great for:
booster clubs, sports team, organizational or company logo emblem or message

Unobtrusive logos will look sharp on this hat

This hat will feel and look great while playing a round of golf
Expert Tip: When packing hats in a suitcase or backpack, you have to be careful to not bend them and smash them. Not this cap. When you are low on room in your bag, the OC504 is a comfortable, lightweight hat that you can roll up into a ball and pack in your bag. When you unpack, the cap will bounce back to its original shape.
OC504 Inventory available beginning May 2022.
CWF-405 Multicam® Cap with Flag Visor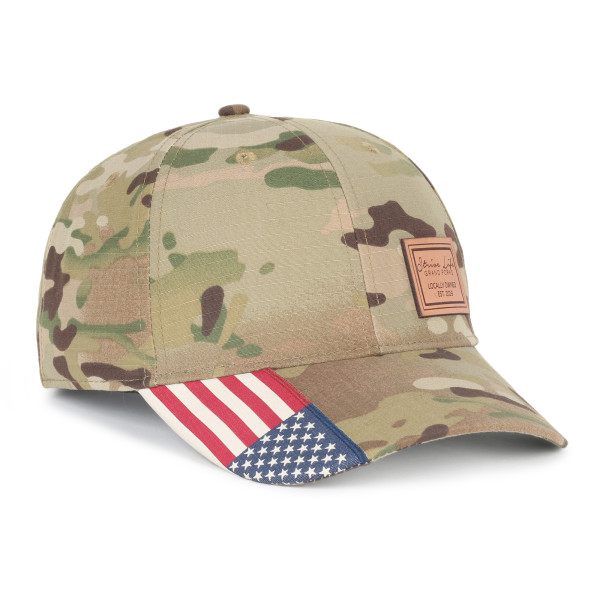 Made from Multicam Camo, the CWF-405 cap is a perfect promotional cap for the outdoor enthusiast. Features of this structured, pro mid crown, woven label flag on the visor and back arch and tuck strap with slide closure. This one-size-fits-most headwear is sold blank or with a genuine leather patch to build brand awareness for your next event.
Key attributes:
Woven Flag Label on Visor and Back Arch

Tuck Strap with Slide Closure

Made with Multicam® Camo fabric
Great for:
Hunting and Fishing company logos

Tactical stores and brands

American Pride logos
Expert Tip: This stylish camo pattern and flag combo are perfect for your most patriotic customers.
CWF-405 Inventory available beginning July 2022.
TAC-700 Tactical Multicam® Cap with Flag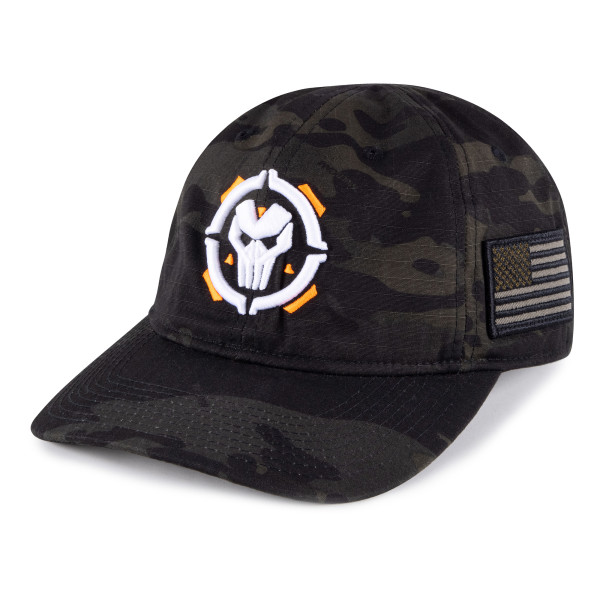 Enjoy the new TAC-700 featuring Tactical Multicam camo with a tonal flag on the side. This unstructured canvas camo six-panel cap has a low crown design, and a wicking polyester sweatband that keeps you cool and dry in all kinds of outdoor settings.
This hat also features a plastic snapback closure allows you to dial in the perfect fit. The American flag scout patch on the side of the hat is a great way to show your American pride without wanting the red, white, and blue colors on your hat. Add your organizational or company logo, emblem or message through our embroidered process to customize.
Key attributes:
Tonal Flag on Left Side

Wicking Polyester Sweatband

Made with Canvas Camo Fabric
Great for:
American Pride Logos

Archery/Firearm company logos

Tactical stores and brands
Expert Tip: Unify your look when using this cap by adding firearm and combat graphics to enhance the tactical camo theme.
TAC-700 Inventory available beginning June 2022.
OC807 Cable Knit Beanie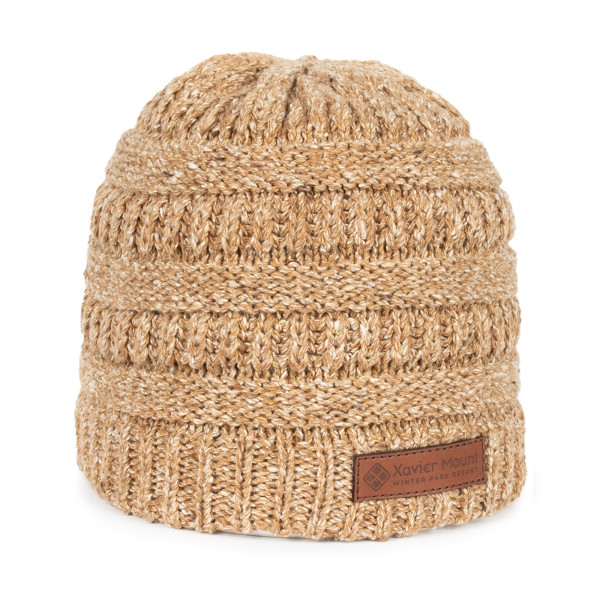 The OC807 is a new trendy cable knit beanie is the perfect addition to any winter look. The cable stitched pattern creates a very dense, comfortable fabric with a stylish look. This fabric that the OC807 is created with is an acrylic knit. This fabric will keep you warm and comfortable when you go outside in the cold winter months. This beanie is accentuated with a debossed faux leather wrapped label on the left wear side.
Key attributes:
Made with Acrylic Knit Fabric

Debossed Faux Leather Wrapped Label

Measurements: 9" W x 8.5" H
Great for:
Trend-forward brands

Minimal logos

Small leather patches
Expert Tip: This cable knit fabric resembles braided ropes and gives the beanie a traditional, hand made look.
OC807 Now AVAILABLE in all colors.
OC808 Waffle Knit Watch Cap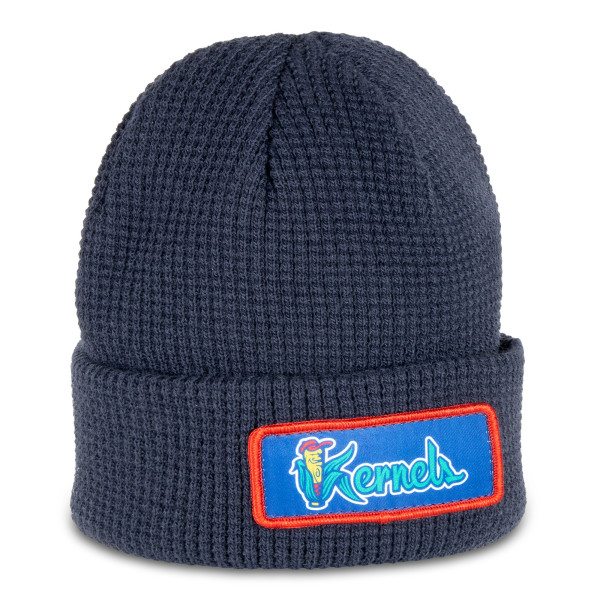 The OC808 is another new cold weathered style that will keep warm. The pattern on this beanie is a waffle knit stitch that creates a simple, nicely textured fabric. This waffle knit watch cap has a 3" cuff where a logo will look great.
The trend-forward acrylic waffle knit is accentuated with a faux suede wrap label on the left wear side. This cap measure in at 8.25"W and 8"H.
Key attributes:
Made with Acrylic Waffle Knit Fabric

Faux Suede Wrap Label

Measurements: 8.5" w x 8" h with a 3" Cuff
Great for:
Wide logos

Skate/ski shops

Larger patches
Expert Tip: Waffle knit is the perfect pattern for all occasions. Trendy enough for skate shops, but practical enough for warm climate customers, too.
OC808 NOW AVAILABLE in most colors.
OC806 Oversized Pom Watch Cap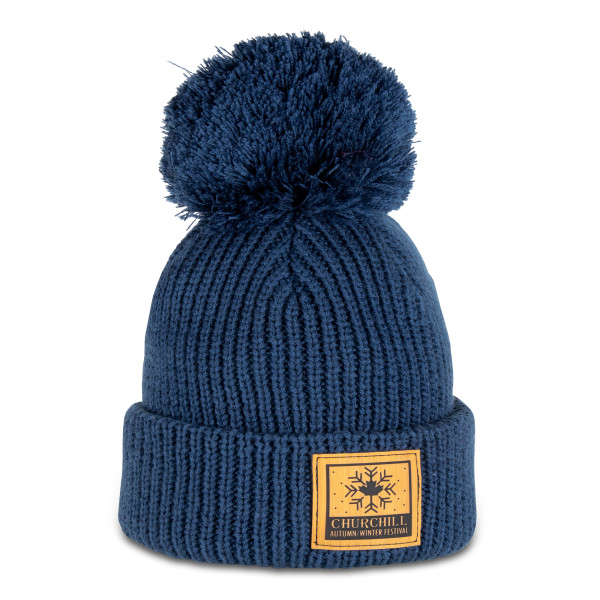 Another new hat to fall under our great cold weather selection is the new OC806. This stylish watch cap with an oversized pom will make sure that you stay warm and cozy during those cold winter days. This hat is made of the warm fabric of acrylic knit. This watch cap features a 3" cuff, and measures in at 8.25"W and 8"H.
Key attributes:
Made with Acrylic Knit Fabric

Oversized Pom

Measurements: 8.25" W x 8" H with a 3" Cuff
Great for:
Booster clubs

Resorts

Event registration goodie bags
Expert Tip: Beanies in the headwear industry are starting to trend more towards poms. More specifically, oversized poms. Poms are a great way to add a little more style to a beanie.
OC806 NOW AVAILABLE in most colors.
What's your favorite from our new styles above? Any other tips to share? Drop them in the comments below.